Published 9:00 AM EDT, Wed June 28, 2023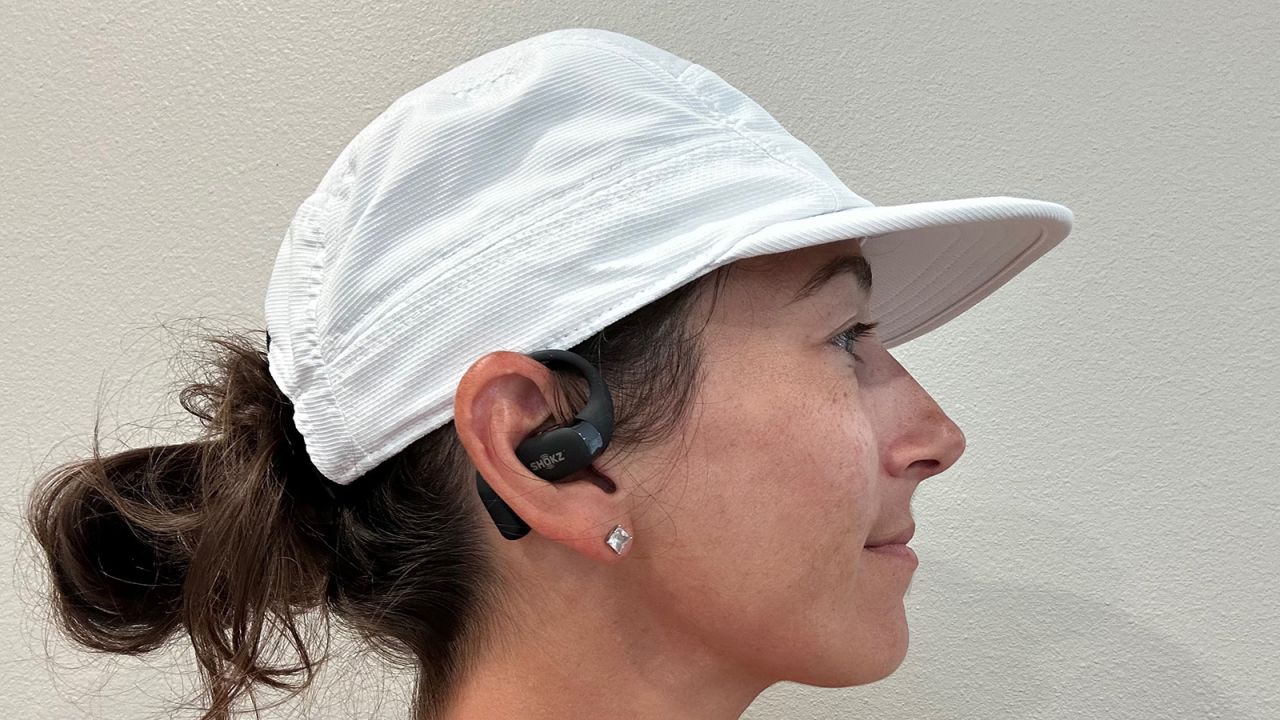 Shokz made its name as the go-to brand for open-ear workout headphones. Using bone conduction technology to deliver sound not through the air but through your cheekbone, their products, including the Shokz OpenRun Pro — a sturdy bone-conduction headphone aimed at runners and other fitness enthusiasts who need to stay aware of their surroundings — allow you to listen to your music, podcasts, or calls while still staying plugged into your surroundings. The downside? They sound dull and tinny compared to traditional sealed headphones.
But the brand-new Shokz OpenFit headphones ($180) are completely different. Instead of conducting sound waves through your bones, it uses what the company calls "air conduction" technology — a tiny, very directional speaker provides sound on par with traditional headphones, but without sealing up your ears. The main result: way better sound quality.
What we liked about them
The OpenFit let you hear what's around you and still works like good everyday headphones
The OpenFit aren't meant to be a fitness headphone, or at least not solely fitness headphones. Rather, it is designed for everyday use, with touch controls for playback, volume and phone call control, seven-hours of battery life and 21 more hours in the compact charging case (plus fast-charging gives you an hour of juice from a five-minute charge) and a companion app with very flexible EQ controls. Basically, they work like most other modern true wireless headphones — and sounds pretty much like them too, though without shutting off your situational awareness.
Whether you're in the office or working out, the design creates an immersive experience without totally shutting out the outside world. They're great for working at home (you can be on calls and still be able to hear the doorbell or the dog), for walking and hiking where you want to stay aware of traffic or trail users and even for outdoor exercise (though Shokz suggests that these are meant as a lifestyle headphone, not a fitness tool) where you get better sound than any bone conduction headphone we've tried along with unobstructed awareness.
They sound really good — even if you're all about that bass
While I liked the Shokz OpenRun Pro, that was mostly because of the safety features — not the sound quality (music heard via my cheekbone always seems a bit tinny to me). Bone conduction headphones used vibrating elements instead of traditional speaker-style drivers (the part of headphones that converts electrical signals into sound) and even with added bass enhancers, the OpenRun Pro didn't exactly create a satisfying audio experience.
The OpenFit, on the other hand, use small dynamic drivers — similar to what you'd find in most standard earphones — but here they are used as tiny, very directional speakers. There's no foam or silicone eartips on the OpenFit; the drivers are simply aimed at your ear canal, giving you good sound and surprisingly solid, thumping bass (if you so desire; you can tailor the response to your taste with the EQ in the companion app) without blocking your hearing.
It felt like I was almost in the room listening to two of my favorite podcast hosts chat, and phone calls were crystal clear. Since the OpenFit doesn't seal your ear canals, they can't provide any active noise canceling for you as a listener, but the call mics do use noise cancellation (Shokz claims they filter out 99.7% of ambient noise) — a feature that was much appreciated when I unexpectedly had to take an important call while in a busy coffee shop.
The fit
Ashley Mateo/CNN Underscored
Of all the over-the-ear hook headphones I've tried, the OpenFit rank among the most comfortable. For starters, they're made from a super soft silicone that's honestly smoother than my own skin; there were no pressure points, rubbing, or chafing. The battery compartment, which sits behind your ear, acts as a natural counterweight to the driver unit, which sits just above your ear canal — and each earpiece weighs a barely noticeable 8.3 grams. I found that they fit perfectly out of the box and didn't bounce or budge even on a run, but the ear hook has a built-in 0.7-mm flexible memory wire that you can adjust to your natural ear shape to fine-tune the fit.
What we didn't like about them
They don't handle moisture super well
The OpenFit are rated IP54, which means they are protected from water spray from any direction — the bare minimum you'd want for a piece of gear that might be subject to rain and sweat. These are being marketed as lifestyle headphones, so they're not as fitness-focused as Shokz's other products, but the company does say they can be worn during activities like walking, jogging and hiking.
However, when I jogged in these on a hot day — sweat was literally dripping down the inside of my ears, which was not a super pleasant sensation (and not one I've encountered to that extreme with other headphones). It wasn't a deal-breaker for me, but it's definitely something I'll consider before wearing these during longer, high-intensity activities in warm conditions (inside or out).
No noise cancellation limits some uses
The one thing many users may miss on the OpenFit is active noise cancelation, which simply isn't possible given the limits of directional speaker design and the fact that they OpenFit don't seal off your ear canals to provide the necessary isolation for noise cancelation techniques to work.
That means OpenFit aren't the best choice for those looking to block out the sounds of noisy offices, train commutes or gyms. But if you'd rather listen to what's going on around you they are certainly usable in those environments, you just won't have a background of silence.
As we pointed out above, the OpenFit's microphones do have noise cancellation onboard, so even if you can't take advantage of it for listening, the technology is there under the hood so your voice will come through clearly on calls.
How they compare
The OpenFit join a growing list of similarly designed open-ear listening devices like the JLab Open Sport ($80), the JVC Nearphones ($80). The OpenFit cost almost $100 more, but we think the price is justified — not just because of the better sound quality, but in the comfort that comes with a lighter, more streamlined and far less bulky design.
While the OpenFit are more of a lifestyle headphone than for sports, they can still stand up to less sweaty workouts. They're kind of like if the no longer-produced Bose Sport Open Earbuds (RIP) and the Beats Powerbeats Pro met, combining premium audio with a secure, comfortable fit.
Bottom line
Open-ear headphones promise safety and the ability to listen to audio without plugging up your ears, but, in a lot of cases, you're going to have to sacrifice sound quality for safety. Not so with the Shokz OpenFit headphones, which offer a "best of both worlds" solution. These perform on all fronts: They prioritize bold, clear sound quality and are so comfortable you'll forget your wearing them, and they give you most of the features you expect from a high-end true-wireless headphone, which justifies the price.
Note: The prices above reflect the retailers' listed price at the time of publication.